Police Officer David Samuel Kohake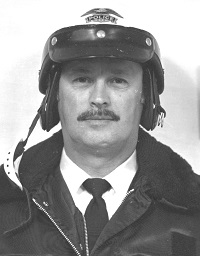 Dave was born February 18, 1939 in Scioto County to Edward B. and Clarice Kohake.  He attended Central High School, served on the Representative Assembly, and graduated in August 1957.  He also found his wife there, Jacqueline King, and they married on September 8, 1957.
During high school, he began working in a co-op status in a graphic arts position with the Kramer Printing Company.  After high school he worked as a printer for Bramkamp on 8th Street and then Burroughs on Colerain Avenue until 1963.
Dave joined the Cincinnati Police Division on January 14, 1963 as a Police Recruit.  He was promoted to Patrolman on April 22, 1963, issued Badge 326, and assigned to District 7 (813 Beecher Street).  Fourteen months later, he was rotated to District 2 (314 Broadway).  On February 27, 1966, he transferred to Traffic Bureau.  During January 1973, he transferred to District 4 (7017 Vine Street).  During May 1978 and the annual Police Week Banquet he was recognized for "outstanding work in traffic investigation."  He transferred once more, to District 1 (310 Ezzard Charles Drive) on November 22, 1987.  For almost twenty years, Officer Kohake was highly respected traffic man assigned to 3-wheeled motorcycles.  Officer Kohake retired February 4, 1989 with 26 years of service and 36 letters of appreciation and/or commendation – including seven from police chiefs.
Officer Kohake died on May 9, 2021 at the age of 82.
He was predeceased by his son, David Gregory Kohake, USN SAUs (1976).  Officer Kohake is survived by his wife of almost 64 years, Jacqueline "Jackie" (King) Kohake; daughter, Kimberly Rhnee (Tory) McBeath; grandchildren, Brittany McBeath, Tiffany (Nick) Scott, and Courttany McBeath; great-grandchildren, James Jordan McBeath, Natalee Scott, and Jade Scott; and sister, Rose (Jim) Alcorn.
A memorial service will be held Saturday, April 9, 2022.  At 11 a.m. a procession of cars and motorcycles will form at the American Legion Post at 111 Victor Stier Drive in Milford.  At 11:30 a.m., the procession will travel to Greenlawn Cemetery (approximately one mile) at 587 US 50 in Milford.  At noon, graveside prayers and an FOP service will be held at the cemetery.  Food and refreshments will be served at the Legion Post immediately following.
Memorials may be made to Hospice of Cincinnati, PO Box 633597, Cincinnati, OH 45263 or Life Change Church at 701 Chamber Drive in Milford.
© 2021 – All rights reserved to LT Stephen R. Kramer RET and the Greater Cincinnati Police Museum