Police Chief William Richard "Bill" Nuss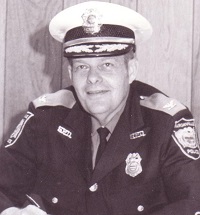 Bill was born March 31, 1935 in Cincinnati to John P. and Carrie (Gruber) Nuss.  He attended Sharonville High School.
During 1951 he joined the Sharonville Volunteer Fire Department and by 1958 had been promoted to Assistant Chief.  He also served on the life squad.
He additionally, in 1956, joined the Ohio State Patrol as a dispatcher and the Sharonville Police Department as an auxiliary officer.
Bill was promoted to Sharonville Patrolman in 1958.  He was promoted to sergeant during 1961.  A year later he was assigned as the Detective Sergeant.  By 1964 he was additionally referred to as the Assistant Chief.  As the city grew, so did the Department and ranks.  Sergeant Nuss was promoted to Lieutenant in 1965 and Captain in 1970.  During 1971 he was promoted to Police Chief and held the position 18 years.  As Chief, he was elected in the Hamilton County Police Association to the Board of Directors in 1970, 2nd Vice President in 1973, and 1st Vice President in 1974.   During December 1978, Chief Nuss accepted an honorary position on the National Child Safety Council's Advisory Board.  Police Chief Nuss retired at the end of February 1989 with 32 years of service.
Chief Nuss passed away June 5, 2021, peacefully at his home, surrounded by loved ones, at the age of 86.
He was predeceased by his brother, Jack Nuss.  Chief Nuss is survived by his wife of 40 years, Judy (Cramer) Nuss; children, Clayton Nuss, Clinton Nuss, Jimmy Morris, Barbara (Jason) Lack, and Cristina Wires; grandchildren, Kelsey, Jacob, Bryson, Alexis, and Kyle; and great-grandchildren, Lane, Peyton, and Emma.
Visitation will be held 11 a.m. to 1 p.m. on Tuesday, June 8, 2021, at Mihovk-Rosenacker Funeral Home, at 10211 Plainfield Road.  A funeral service will be held at 1 p.m.  His family asks attendees to consider the color red in their attire to show solidarity for Bill's favorite color.
Memorials may be made to Queen City Hospice.
© 2021 – All rights reserved to LT Stephen R. Kramer RET and the Greater Cincinnati Police Museum