Police Chief Michael D. "Bubba" Goins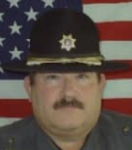 Police Chief Michael David "Bubba" Goins (1957-2021)
Mike was born March 16, 1957 in Hamilton to Franklon House and Gayle Weber.  He attended Hamilton Taft High School and graduated in 1975.
Immediately after high school, he began working in law enforcement with the Oxford Township, Miami University, and Ross Township Police Departments.
Officer Goins joined the Butler County Sheriff's Office and served as a Deputy Sheriff from September 5, 1996 to November 30, 2005.
On February 2, 2006, Deputy Goins took over as Police Chief at the Oxford Township Police Department.  By mid-2021, he had served as Chief for 15 years and his community almost 46 years.
He was universally admired, respected, and befriended by law enforcement officers in the Butler County Sheriff's Office, Oxford Police Department, Miami University Police Department, and Oxford Township Police Department.
Police responded to his home on June 24, 2021 and found that he had not survived an apparent medical issue.  He was 64.
He was predeceased by his mother, Gayle Jean Goins, and adoptive father, Jarvis Lee Goins.  Chief Goins is survived by his wife of 31 years, Beverly Goins; children, Katie Marie (Kevin) Fletcher, Grace Goins, Dana Gayle (Rob) Hollingsworth, and Kyle James (Hanna Scherzinger) Goins; grandsons, Hunter, Lincoln, and Trevor; father, Franklon (Denise) House; siblings, James (Juanita) Goins, Mark (Samantha) Goins, Bill (Theresa) Goins, and Kathryn (Barry) Tutt; and half-siblings, Jason House and Valerie House.
A memorial will be held at 11:30 a.m. on Thursday, July 1, 2021 at the Oxford Township Police Department.
Memorials may be made to a charity of one's choice.
© 2021 – All rights reserved to LT Stephen R. Kramer RET and the Greater Cincinnati Police Museum