Police Chief John Wallace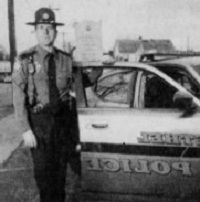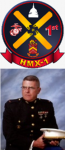 John was born January 8, 1952, in Cincinnati, to John F. Jr, and Mary Bernadette Wallace.
During 1972, John joined the United States Marine Corps.  He served both on active duty and in the United States Marine Corps Reserves.  During which he was assigned to the Marine Helicopter Squadron One (HMX-1), responsible for the transportation of the president and vice president of the United States, heads of state, Department of Defense officials, and other VIPs as directed by the Marine Corps and White House Military Office – often known as "Marine One".  Specifically, he served on presidential security details for Presidents Nixon and Ford.  Chief Warrant Officer Wallace retired with 25 years of service.
John joined the Sharonville Police Department as a Patrolman in 1983. On February 26, 1990, he was promoted to Sergeant.  Sergeant Wallace retired during August 2000.
He was also a police instructor for the Great Oaks Police Academy and also served in Trenton, Madeira, Union Township (Bulter County), and Loveland.
Sometime before 2006, he was appointed Police Chief for Bethel, Ohio.  Then, in 2011, he was appointed interim Police Chief for Amelia.  During November 2011, he finally with more than 39 years of service to his country, several communities, and the region in general.
Chief Wallace died, surrounded by family, on June 6, 2021.
Chief Wallace is survived by his wife, Shirlene (Evers) Wallace; children, Michelle (Elmer) Brossia, Scott (Jacki) Wallace, John T. (Amy) Wallace, and Amy (Chris) Paproski; grandchildren, Noah, Braeden, Logan, Savannah, Lincoln, Austin, Gavin, Ethan, Abigail, Caleb, Jack, and Dylan; and siblings, James (Debbie) Wallace, Thomas (Amy) Wallace, and Susan (Dan) Duncan.
Visitation was held Tuesday, June 8, 2021, at E.C. Nurre Funeral Home. 315 W. Plane Street, Bethel, OH 45106.  A Mass of Christian Burial will be celebrated at 10:30 a.m. on Wednesday, June 9, 2021, at St. Mary Church at 3398 State Route 125 in Bethel. A graveside service will take place Thursday at Dayton National Cemetery with military honors.
© 2021 – All rights reserved to LT Stephen R. Kramer RET and the Greater Cincinnati Police Museum