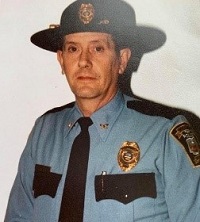 Harry was born April 9, 1937, in Indianapolis to Raymond V. and Barbara L. (Craig) Snyder.  He attended East High School and entered Withrow High School in his sophomore year.  At Withrow he participated in the Physics Club, Track, and Tip Toppers and served as class president in his senior year.  He graduated in 1955.
After high school, Harry joined the Ohio National Guard.
Harry joined the Clermont County Sheriff's Office as a Deputy Sheriff in 1970.
Seven years later, Deputy Snyder was appointed police chief at Miami Township of Clermont County and served as such, through the township's accelerated growth.  Chief Snyder retired in 1994 with 24 years of service to the county and community.
He was also a member of Blanchester Lodge #191 and Milford Lodge #54 of the Free and Accepted Masons of Ohio.
He died with family by his side on September 23, 2021, at the age of 84.
He was predeceased by his wife of 65 years, Anna Mae (Poff) Snyder.  He is survived by his children, Barbara, Raymond, Mark, Brian, Michael Harry, and Blaine Andrew; 15 grandchildren, and 21 great-grandchildren.
Visitation and celebration of life services were held October 2, 2021 and interred at the Hopewell Cemetery in Montgomery.
© 2021 – All rights reserved to LT Stephen R. Kramer RET and the Greater Cincinnati Police Museum