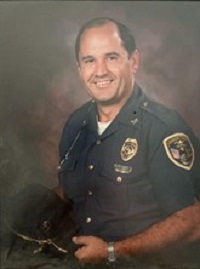 Don was born February 22, 1943 in Letcher County, Kentucky to Clayton and Lila (Cornett) Combs.
About 1967, he joined the Lawrenceburg Police Department.  On October 16, 1967, he single-handedly captured four armed men wanted for felonious assault in Ohio.  After eight years as a patrolman, he was promoted to Sergeant.  After another eight years he was promoted to Police Chief, and served another eight years until 1992.
Chief Combs was then elected Mayor of Lawrenceburg and served from 1992 to 1996 and was instrumental in bringing a casino to the city.  He served his community almost 29 years.
He also coached little league baseball and pee wee football when his boys played.  Chief Combs and his wife, for fifteen years, also owned and operated Grandview Market on Ludlow Hill.
About 2000, Chief Byron purchased a home in Florida and was an active member of the Community Bible Baptist Church in Pinellas Park.
Chief Combs died on Christmas Day 2021 at the age of 78.
He was predeceased by his parents and siblings, Robert Combs, Glyndora Combs, Pauline Haney, Eunice Derringer, Darrell Combs, Larry Combs, and Tom Combs.  Chief Combs is survived by his wife of over 60 years, Phyllis Sue Berry Combs;  children, Donna Greive, Donald (Erika) Combs Jr., Jim (Stephanie) Combs, and Christa (Max) Socks; grandchildren, Chelsie (Matt) Hanna, Stacie (Trever) Varney, Courtnie Greive, Joshua Combs, Dustin (Kelli) Combs, Kendall Combs, Blake Combs, Lila Socks, Shelby Socks, and Uriah Socks; great-grandchildren, Ella Combs, Paul Combs, Ben Combs, Tyler Hanna, Carter Hanna, Jackson Varney, and Christian Varney; and siblings, Sharon Uribe Combs, Norma Goodpaster, and Charles Combs.
Visitation and funeral services were held on Monday, January 3, 2022 at Stratton Karsteter Funeral Home in Versailles.  Burial immediately followed at Washington Cemetery.
© 2022 – All rights reserved to LT Stephen R. Kramer RET and the Greater Cincinnati Police Museum