Patrolman Warren Austin "Butch" Simpson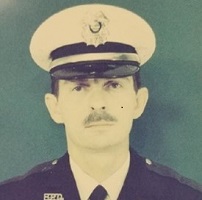 Butch was born July 18, 1952 in Hamilton to Detective Austin and Agnes Simpson.  He attended Garfield High School and graduated in 1970.
At 20 years old, Butch joined the Hamilton Police Department as a Police Cadet on November 17, 1972; soon after his brother, Patrolman Rick Simpson, was promoted from Police Cadet.  Cadet Simpson began the Police Academy during March 1973, graduated in April, and was promoted to Patrolman on October 26, 1973.  Patrolman Warren Simpson retired on June 17, 1993 with 20 years of service.
Patrolman Simpson died on August 11, 2021 at the age of 69.  Hamilton Chief of Police Craig R. Bucheit directed a period of mourning from August 12 through August 18, 2021.
He is predeceased earlier this year by his brother, Detective Claude Richard Simpson (Retired).  We believe Patrolman Simpson is survived by two children, Rebecca Ruth Simpson and Kevin William Simpson.
Private services will be held at the discretion and convenience of the family.
© 2021 – All rights reserved to LT Stephen R. Kramer RET and the Greater Cincinnati Police Museum