Operator Dispatcher Sheila Nancy (Drake) Lucas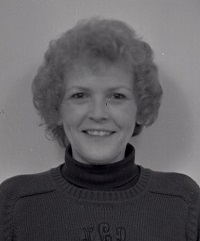 Nancy was born April 18, 1932 in Appleton, Wisconsin to Ronald Irwin and Ruth (Crawford) Drake.  The family moved to Hamilton, Ohio and she attended Hamilton High School, where she was the president of Hi-Y, treasurer of the U.S. History Club Council, and member of the National Honor Society, Biology Club, Guidance Committee, Latin Club, Spanish Club, Chant Staff, Dean's Council, and Senior Scouts.  She graduated during June 1950.  Nancy then attended the Rochester Institute of Technology and Rochester, New York, majoring in Commercial Art and Social Science.  There, she was president of the Phi Upsilon sorority, president of the Inter-Sorority Council, social chairman of the girls' dormitory, and graduated in 1953.
From 1975 to February 1977, Nancy was self-employed as an artist for several gift shops.  She then took over Stouffer's Cincinnati Towers Restaurant as its manager until November 1981.  Nancy then worked as a hostess for Denny's Restaurant on Highland Avenue for almost a year.  Finally, she worked as a quality control inspector at Swissco on Kennedy Avenue until July 1983.
Nancy joined the Cincinnati Police Division as a Provisional Assistant Operator Dispatcher at Communications Section (310 Ezzard Charles Drive) on July 31, 1983.  She was promoted to Assistant Operator Dispatcher on June 27, 1985 and made effective on her original start date.  Two months later, she was promoted to Operator Dispatcher.  She had a Division-wide reputation of caring for the safety of officers and citizens.  Operator Dispatcher Lucas retired September 1, 1998 with fifteen years of service.
Operator Dispatcher Lucas contracted COVID and soon was placed in hospice care.  She died during the morning of August 21, 2021 at the age of 89.
She was predeceased by her sister, Dawn (John) Redlin.  Operator Dispatcher Lucas is survived by her children, James E. Haus and Patricia L. Knorr; grandchildren, Alex J. Haus, Mitchell J. Haus, and Emily Knorr; great-grandchildren, Wesley Haus, Easton Haus, and Adeline Haus; and brother, Ronald (Carol) Drake.
A private celebration of life will be held at a later date.
Memorials may be made to the Society for the Prevention of Cruelty to Animals.
© 2021 – All rights reserved to LT Stephen R. Kramer RET and the Greater Cincinnati Police Museum