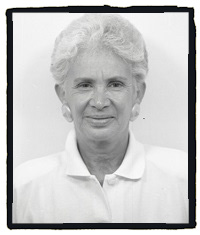 Lou was born May 19, 1935 in Williamsburg, Kentucky to James W. and Mary (Carr) McFalls.  She attended Williamsburg High School and graduated in 1952.  Lou also attended the American Academy of Ophthalmology in in Washington D.C. during 1968 and Southern Ohio Business College in 1972.
From August 1965 to January 1973, Lou was an ophthalmology photographer and diagnostician at the University of Cincinnati Medical College.  From March 1973 to January 1975 she worked for the Hamilton County Auditor as a residential appraiser.
Lou joined the Cincinnati Police Division as an Assistant Operator Dispatcher on March 23, 1975.  On September 16, 1979, she was appointed as Provisional Assistant Operator Dispatcher.  Also during 1979, she married her coworker, Cincinnati Police Officer James V. Dettone.  He position was made permanent on June 8, 1980.  Almost four years later, she was promoted to Operator Dispatcher.  All her supervisors and commanders considered her to be a pleasure to work with and very concerned with the level of service she provided.  Dispatcher Dettone retired February 1, 1998 with 23 years of service.
We are advised of Dispatcher Dettone's recent death at the age of 86.
This obituary will be updated at https://police-museum.org/ when we receive more information.
© 2021 – All rights reserved to LT Stephen R. Kramer RET and the Greater Cincinnati Police Museum