Lieutenant Timothy M. Brown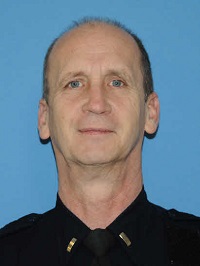 Tim was born March 30, 1961 in Owensboro, Kentucky to George "Dubby" and Wanda Brown.  He attended Owensboro High School, graduating in 1979.  During 1988, he also attended the University of Cincinnati.
Also in 1988, he clerked at Plaza Liquors in Fort Lauderdale, Florida.  From October 1988 to October 1990 he drove a Yellow Cab before moving back to Kentucky.  He worked as a video technician at Charleston Industries in Cincinnati from 1991 to 1992 and then produced a television show at Galjour Electronics until the end of 1993.
He joined the Cincinnati Police Division on November 14, 1993 as a Police Recruit.  He was promoted to Police Officer on April 10, 1994, issued Badge 733, and assigned to District 2 (3295 Erie Avenue).  Officer Brown was rotated to District 5 (1012 Ludlow Avenue) on April 23, 1995.  On February 9, 1997 he transferred to the Park Unit.  He was promoted to Specialist on July 26, 1998, and issued Badge PS-733.  Four months later, he was promoted to Sergeant, issued Badge S-733, and assigned to District 4 (4150 Reading Road).  He was rotated to District 2 in 2001 and four years later assigned to its Investigative Unit.  Three months later, he was promoted to Lieutenant, issued Badge L-733, and eventually assigned as a Relief Commander in District 4.  Lieutenant Brown also commanded reliefs in District 2, 3 (3201 Warsaw Avenue), and 5.  From 2012 to 2016 he served as the Administrative Night Chief.  Lieutenant Brown transferred to District 2 on June 5, 2016 and by May 2021 had served 27 years and was looking forward to retirement.
Lieutenant Brown suffered an apparent fatal heart attack on May 22, 2021.  He was 60.
He was predeceased by his brother, Michael Brown, and nephews, Chris Terrell and Ranson Barnett.  Lieutenant Brown is survived by his wife of 30 years, Julie Heflin Brown; children, Elizabeth Brown, Emily Brown, and Timothy Brown; and siblings, Mark (Cathy) Brown, Phil (Debbie) Brown, Debbie Whitney, and Jennifer Barnett.
Visitation will be held 2 p.m. to 7 p.m. on Friday, May 28, 2021 at the Glenn Funeral Home in Owensboro.  A FOP service will be held at 3 p.m.  A prayer service will be held at 7 p.m.
A memorial reception will be held at 3 p.m. on Saturday, June 5, 2021 at the Fraternal Order of Police, Queen City Lodge, at 1900 Central Parkway.
© 2021 – All rights reserved to LT Stephen R. Kramer RET and the Greater Cincinnati Police Museum