Lieutenant Richard Corey Karpe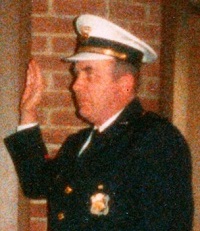 Richard was born May 15, 1936 place to Lawrence and Rose Karpe of Evanston.  He attended Withrow High School from 1950 to 1952.
Richard left high school and went to work at Alber's Supermarket at Melrose and McMillan.  During October 1956 he married Betti Lou Butler.
On February 3, 1957, Richard joined the United States Coast Guard.  Boatswain's Mate 3rd Class Karpe was honorably discharged on February 2, 1959.
He went back to high school, probably Hughes Night School, in 1959 and earned a diploma.
In January 1960, Richard joined the Cincinnati Workhouse as a Guard.
Three months later, he accepted a Cincinnati Park Board appointment as Park Police Officer.  On November 3, 1981 he was promoted to Park Police Sergeant.  On December 10, 1987, Sergeant Karpe was promoted to Park Police Lieutenant.
The Park Police Department was disbanded, and its officers transferred into the Cincinnati Police Division, on November 13, 1988.  Lieutenant Karpe continued in the Park Police Unit until his retirement on December 17, 1988, with almost 31 years of service to his country and community.
Lieutenant Karpe died at 1:45 a.m. on May 5, 2021, ten days short of his 85th birthday.
He was predeceased by his wife of almost 44 years, Betti Lou Karpe (2000), and sister, Gayle Karpe.  Lieutenant Karpe is survived by his sons, Jeffrey Stephen (Julie) Karpe and Allen Richard (Joshua) Karpe; and grandchildren; Ella Karpe, Rebecca Karpe, and Sophia Karpe.
Visitation will be held 10 a.m. to 10:45 a.m. on Wednesday, May 12, 2021 at Spring Grove Funeral Home at 4389 Spring Grove Avenue. An FOP Service will be held at 10:45 a.m.  A funeral service will be held at 11:00 a.m., followed by burial at 1 p.m. at Spring Grove Cemetery.
© 2021 – All rights reserved to LT Stephen R. Kramer RET and the Greater Cincinnati Police Museum