Lieutenant Joseph Robert Determan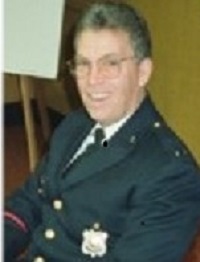 Joe was born on December 7, 1941 to George John and Amelia Mary "Dolly" (Miller) Determan of Over-the-Rhine.  His family moved to Price Hill and he attended Western Hills High School where he was nicknamed, "Fabian."  He participated in football and the German Club and graduated in June 1961.
While attending high school and for a few months afterward he worked as a stock boy for Porter Paints in Westwood and as a painter for Amherst Construction in Milford.
Joe joined the Cincinnati Police Division on September 11, 1961 as a Police Cadet.  Cadet Determan worked in Central Station (the city jail in City Hall).  On January 14, 1963 he was appointed as a Police Recruit.  On April 22, 1963 he was promoted to Patrolman, issued Badge 135, and assigned to District 5 (1012 Ludlow Avenue).  Fourteen months later he was rotated to District 2 (314 Broadway).  During July 1966, he transferred to District 4 (7017 Vine Street).  On June 22, 1975, he was promoted to Sergeant, issued Badge S-133, and assigned to Training Section.  Two months later, he was reassigned to District 4.  Sergeant Determan also served in District 3 (3201 Warsaw Avenue).  On September 10, 1986 he was promoted to Lieutenant and issued Badge L-14 and assigned to the Crime Prevention Unit.  Lieutenant Determan also served in District 5 and as the Criminalistics Unit Commander.  Lieutenant Determan retired October 22, 1994 with 33 years of service and 23 letters of appreciation and/or commendation; including from six chiefs of police, five of Cincinnati and one of Piqua.
He then went to work as an investigator for the Public Defender's Office and retired again after 12 years.
Lieutenant Determan suffered from failing health and complications for a number of years.  He suffered another major stroke and, since November 1, 2020, was in the Shawnee Spring Nursing Home.  He died on January 25, 2021 at the age of 79.
He was predeceased by his sibling, Herman Determan, Bill Determan, Delores Henshaw, Rosella Determan, and Rosemary Goldfuss.  Lieutenant Determan is survived by his children, Eric Joseph (Jeana) Determan, Melissa Ann (Rick) Kalinowski, and Christopher Robert Determan; grandchildren, A.J., Zack, and Kayla; and siblings, Sandy Lasita and Patricia Determan.
Visitation will be held 10 a.m. to Noon on Wednesday, February 3, 2021 at the Dalbert, Woodruff, and Isenogle Funeral Home, 2880 Boudinot Avenue.  A blessing service will be held at Noon.
Memorials may be made at the Alzheimer's Association or American Cancer Society.
© 2021 – All rights reserved to LT Stephen R. Kramer RET and the Greater Cincinnati Police Museum