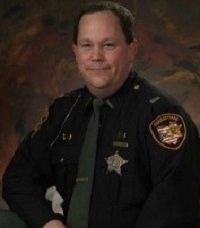 Dave was born August 12, 1963 in Hamilton to Maynard Lewis and Allene Mae (Rish) Reynolds.
Dave joined the Butler County Sheriff's Office during 2001 as a Corrections Officer.  He was promoted to Corrections Sergeant, then Corrections Lieutenant.  By October 2021, Lieutenant Reynolds had served his county twenty years.
He had also worked for the Hanover Township Fire Department and was an ordained minister and officiated at several weddings.
After a short illness, Lieutenant Reynolds died with his family by his side on September 30, 2021
Lieutenant Reynolds is survived by his wife of 37 years, former dispatcher, Rebecca L. "Becky" (Williams) Reynolds; sons, Andrew (Whitney) Reynolds, Nathan (Jordan) Reynolds, and Jacob Reynolds; and grandchildren, Atticus Reynolds, and Luca Reynolds; and siblings, Denise (Billy), Sharon (Steve), and Keith (AnnMarie).
Visitation will be held 10 a.m. to 12 p.m. on Wednesday, October 13, 2021 at Brown Dawson Flick Funeral Home at 1350 Millville Avenue in Hamilton.  A memorial service will be held at noon with Rev. Jimmy Combs officiating. Burial will follow at Springdale Cemetery.  Please join the family for a fellowship gathering at the Reily Community Center immediately following the cemetery.
© 2021 – All rights reserved to LT Stephen R. Kramer RET and the Greater Cincinnati Police Museum