Detective Sandra Marie (Tretter) Taylor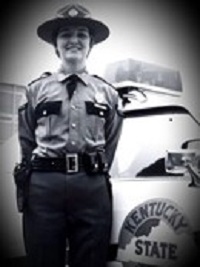 Sandy was born May 7, 1947 in Covington to Godfrey and Norma (Moylan) Tretter.  She attended LaSaletta Academy, graduating in 1965.  She went on to Thomas More College and majored in education.
Sandy taught 2nd, 3rd, and 4th grade at schools in Texas and Northern Kentucky.  She then worked as a driving instructor in Erlanger for three years.
Sandy took a civilian position with the Kentucky State Police Department in Lexington in 1976.  She entered the Kentucky State Police Academy in 1977 and graduated during January 1978, becoming their first female Trooper.  She was assigned to Post 8 in Morehead.   Two years later, in 1980, Trooper Schonecker became a detective with the Special Investigations Unit.  During that time, Detective Schonecker worked undercover, posing as the daughter of a mafia kingpin.  The SIU was investigating the bombings of coal tipples in Harlan County.  For her work, which led to the identification of people responsible for bombing a Harlan County detective's home, she was awarded the Kentucky State Police's medal for meritorious service.  On June 4, 1982, Detective Schonecker was commissioned as a Kentucky Colonel. She remarried in 1985 and transferred to Post 6 in Dry Ridge in 1987 and investigated auto thefts and child abuse cases.  Detective Taylor was diagnosed with multiple sclerosis and retired in 1993 with 17 years of service.
Detective Taylor was a member of St. John the Baptist Catholic Church in Dunnellon, Florida.
Detective Taylor, surrounded by family, died January 9, 2021 in Ocala, Florida due to complications of multiple sclerosis.
Detective Taylor is survived by her husband of 35 years, retired Cincinnati Police Specialist John L. Taylor; son, Brian (Lisa) Schonecker; stepchildren, Gary (Daphne) Taylor and Jodi Lee Taylor; and siblings, Philip (Cydnie) Tretter and Sue (Chip) Foltz.
A celebration of life will be held in the near future at the First United Methodist Church in Dunnellon, Florida.  Graveside services will be held at 11:30 a.m. on Saturday, March 27, 2021 at the Police Memorial Gardens at the Vine Street Hill Cemetery, Cincinnati Ohio.
Memorials may be made to Trooper Island, 919 Versailles Rd., Frankfort, Ky 40601.
© 2021 – All rights reserved to LT Stephen R. Kramer RET and the Greater Cincinnati Police Museum