Deputy Sheriff Paige Ellsworth Nelson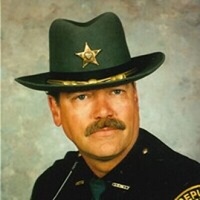 Paige was born July 8, 1948, in Zanesville to Paige J. and Cuma (Shiplett) Nelson.
Paige served as a police officer with Lemon Township Police Department.  He then transferred to the Butler County Sheriff's Office on September 29, 1988, as a deputy sheriff.  Deputy Nelson retired December 31, 2003.
Deputy Nelson died on June 10, 2021 at the age of 72.
He was predeceased by his sons, Duane Gibson and Michael Gibson, and a brother, Bob Nelson.  Deputy Nelson is survived by his wife, Ann (Woodard) Nelson; children, Tracy McGuire (John Keechle), Scott L. Gibson, Gregory L. (Layne) Gibson, Joe Messer, Paige E. Nelson II, and Neil Campbell; grandchildren, Kimberly Cox, Johnathan Keechle, Mike, Greg Gage, Rachel Gage, and Ray Gage; great-grandchildren, Kaecie, Colton, and Katelynn; and sisters, Darlene, Tonya and Sharon.
A visitation was held on Monday, June 14, 2021, at Charles C. Young Funeral Home at 4032 Hamilton Cleves Road in Ross.  A funeral service was held  on June 15, 2021, at 1:00 pm.
Memorials may be made to the Alzheimer's Association, 644 Linn St., # 1026, Cincinnati, OH 45203.
© 2021 – All rights reserved to LT Stephen R. Kramer RET and the Greater Cincinnati Police Museum