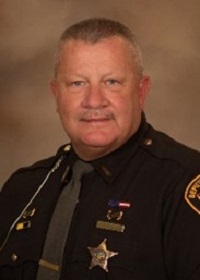 Craig was born January 14, 1964 to Raymond "Disler" and Janet Marie (Hensley) Mills.  He attended Hamilton High School and participated in basketball and baseball.
Craig's baseball honors include Greater Miami Conference (GMC) First Team, GMC Most Valuable Player, All Star Team, and highest average and most hits in the GMC.  He graduated in 1982.  Later in life he was named to the Hamilton High School Athletic Hall of Fame and Butler County Softball Hall of Fame.
While at high school, Craig worked at the Mike Schweinfest's Grocery.  Immediately after graduating, he was immediately drafted by the Detroit Tigers in the 18th Round where he played up to the Triple A level to 1987.
Craig joined the Butler County Sheriff's Office as a Special Deputy on January 6, 1989 while he was working with the Butler County Prosecutor's Office.  He was appointed Sheriff's Deputy on December 16, 2000.  In 2013 he was awarded Deputy of the Year honors.  Deputy Mills retired on June 30, 2019.  On July 1, 2019 he was reappointed as a Special Deputy.  On September 2, 2019 he was reappointed Deputy Sheriff.  By September 2021 he had 32¾ years of service, almost entirely in warrant service.
Besides being an unusually talented athlete, he was an amazing fisherman winning many tournaments. Craig was always coaching younger athletes and took them all under his wing, they truly looked up to him.
Deputy Mills died Sunday, September 12, 2021 over the weekend at Mercy Fairfield Hospital due to complications of battling COVID at age 57.
He was predeceased by his brother, Doug Mills, and brother-in-law, Ronnie Fields.  Deputy Mills is survived by his wife of almost 27 years, Anne L. (Vaaler) Mills; children, Megan Mills and Alex Mills; sister, Rayetta Fields; and siblings-in-law, Scott Vaaler, Stephan Vaaler, Eric Vaaler, and Susanne Vaaler.
Visitation and a funeral service were held on September 18, 2021.  Burial followed at Rose Hill Burial Park.
Memorials may be made to the Craig Mills Memorial Scholoarship Fund 8574 at any 5th/3rd Bank location or, by mail to, PO Box 13644, Hamilton, OH 45013.
© 2021 – All rights reserved to LT Stephen R. Kramer RET and the Greater Cincinnati Police Museum