Deputy John Joseph "Jay" Bauerle, Jr.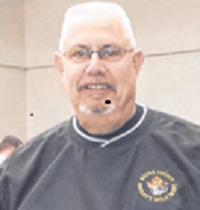 Jay was born on October 17, 1950 in Dayton, Kentucky to John Joseph, Sr. and Amo Bauerle.
Jay joined the Kentucky State Police during 1972 and was assigned to Post 6 (Boone County).  Later, he transferred to Post 6 General Investigations.  Detective Bauerle, during 1982, transferred to Drug Enforcement and Special Investigations in Lexington.  He was assigned to the Drug Enforcement Agency Task Force at the Greater Cincinnati Airport in 1989.  During his career, he received a Sharp Shooter Award and the Safe Driving Pin (100,000 miles driven without a chargeable accident). Trooper Bauerle retired in 1996.
Trooper Bauerle then joined the Boone County Sheriff's Office as their first school resource officer.  After 12 years, Deputy Bauerle transferred to the Justice Center. Five years later, he retired again on March 1, 2014 with 42 years of service to his state and county.
Deputy Bauerle was a member of the Fraternal Order of Police, Kentucky State Police Professional Association, and Kentucky State Police Retirement Organization.
Deputy Bauerle died suddenly, in Florence, on Sunday, August 8, 2021, at the age of 70.
Deputy Bauerle is survived by his wife of 44 years, Linda Bauerle; daughter, Kelly (Ralph) Buys; granddaughters, Alex Buys and Madie Buys; siblings, Scott (Vicky) Bauerle and Greg (Sandy) Bauerle; and sister-in-law, Debbie (Tim) Cundiff.
Visitation will be held 11 a.m. to 3 p.m. on Friday, August 13, 2021 at Linnemann Funeral Home at 1940 Burlington Pike in Burlington.  A funeral service will be held at 3 p.m. Burial will immediately follow at Burlington Cemetery.
Memorials may be made to the Boone County Animal Shelter, 5643 Idlewild Road, Burlington, KY  41005 or Trooper Island, Kentucky State Police, P. O. Box 473, Albany, KY  42602.
© 2021 – All rights reserved to LT Stephen R. Kramer RET and the Greater Cincinnati Police Museum