Deputy Franklin Delano Webb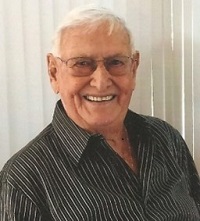 Frank was born April 14, 1934 in Wayland, Kentucky to coal mine foreman Clarence Albert and Alafair "Allie" (Standifur) Webb.
He joined the Hamilton County Sheriff's Office, probably in the 1960s and retired in 1995.
Deputy Webb passed away in his home on April 16, 2021, two days after his 87th birthday.
He was predeceased by his sons, Jerry R. Webb and Franklin H. Webb and son-in-law, Steven Montgomery. Deputy Webb is survived by his wife of 66½ years, Janice (Shelton) Webb; children, retired Cincinnati Police Lieutenant Randy Webb (Melanie Reising), Taunya (Steven) Poe, and Terri Webb (Kari Sprinkles); daughter-in-law, Traci Webb; nine grandchildren; and twelve great-grandchildren.
Visitation was held 11 a.m. to 12 p.m. on Friday, April 23, 2021 at the Arlington Memorial Gardens Cemetery Mausoleum at 2145 Compton Road.  A graveside services was held at 12 p.m.