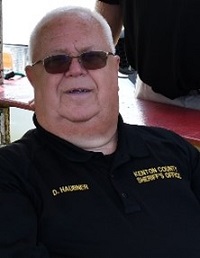 Danny was born November 7, 1950 to Paul L. and Helen (Kiger) Haubner.
Danny joined the Taylor Mill Police Department as a patrolman about 1973 and served until March 1975.
During January 1976, he joined the Covington Police Department as a Police and Fire Dispatcher.  He was promoted through the ranks to Deputy Director of Communications.
Deputy Director Haubner additionally joined the Kenton County Sheriff's Office as an unpaid Special Deputy Haubner during May 1998.  Throughout the years he was always willing to help out whenever needed.  He eventually took it upon himself to coordinate all the special deputies, making sure there were enough workers for various annual functions.
Deputy Director Haubner retired from Covington in July 2006.  Six months later, in January 2007, Deputy Haubner joined the Kenton County Clerk's Office as a Vehicle inspector.
During March 2013, he left the Clerk's Office and, still an unpaid Kenton County Special Deputy, he began inspecting vehicles for them.  By December 2021, he had served his city and county more than 48 years.
Deputy Haubner, surrounded by family, died December 15, 2021 at the age of 74.
He was predeceased by his siblings, Ellen Haubner, Charlotte Haubner, and Lawrence A. Haubner.  Deputy Haubner is survived by his wife, Cindy Haubner; children, Michelle Race and Daniel L. Haubner, Jr.; grandchildren, Shannon (Joey) Marcum, Brandon Race, Brint Haubner, Christopher Carpenter, Christina Carpenter, and Danielle Carpenter; great grandchildren Presley, Jameson, Ellie, Brynn, and Jace; and siblings Johnny Hoffmeyer, Paul (Bea) Haubner, Barbara Elliott, Rosemary (Joe) Nader, and Carol (Dick) Dunham.
Visitation will be held 12 to 4 p.m. on Sunday, December 19, 2021 at Floral Hills Funeral Home.   a Mass of Christian Burial will be held at 12 p.m. on Monday, December 20, 2021, at Holy Cross Catholic Church. Burial will immediately follow at Mother of God Cemetery.
Memorials are suggested to Holy Cross Church or the Covington Fraternal Order of Police.
© 2021 – All rights reserved to LT Stephen R. Kramer RET and the Greater Cincinnati Police Museum