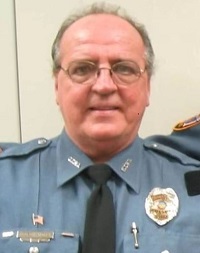 Don was born July 31, 1948 in Jacksboro, Tennessee to Claude English and Helen Christine (Douglas) Hatmaker.  Claude moved his family to Cincinnati and Don attended Courter Technical High School.
In the mid-1960s, Don joined the United States Navy.  A year later, he was drafted by the United States Army during the Vietnam War.  He was honorably discharged date.
After returning home, he was employed in general officer work and, during 1969, married Sherryl Dianne Tye.
Having received law enforcement officer training in New Jersey, on August 1, 1974, Don joined the Cleves Police Department as a Patrolman and one of only two fulltime officers, including Police Chief Rininger.  Later, he was promoted to Sergeant.
Sergeant Hatmaker left Cleves on October 28, 1978 and, on January 2, 1979 joined the Green Township Police Department as a Police Officer.  During his tenure, "Hat" served as a patrol officer, narcotics officer (in DART), detective in the Criminal Investigation Section, and the first School Resource Officer at Diamond Oaks.  He also led the department's first Citizen Police Academy.  He was named Police Officer of the Year in 1987.  During December 2001, he was promoted to Corporal/Field Supervisor.  Corporal Hatmaker retired July 30, 2004 with 34 years of service to his country and two communities and multiple letters of appreciation and/or commendation; including from police chiefs of Delhi, Cheviot, and Cincinnati, the Hamilton County Sheriff's Office, multiple banks, schools, businesses, and citizens, and WLW Radio.
Corporal Hatmaker then served the Fairfield City Schools as a bus driver.  For almost 25 years, Corporal Hatmaker was also a Deacon for the Community Missionary Baptist Church.
Corporal Hatmaker died on December 1, 2021 at the age of 73.
He was predeceased by his wife of 48 years, Sherryl D. (Tye) Hatmaker; son, Claude Harold Hatmaker; grandson, Adrian Hatmaker; and siblings, Nancy Maddock, Everett Hatmaker, Sr., Frank Hatmaker, and Claude Hatmaker, Jr.  Corporal Hatmaker is survived by his sons, Donald Ray Hatmaker, Jr., and Joshua David (Kristy) Hatmaker; grandchildren, Amanda (Chris) Owens, Elijah Hatmaker, Ashton Hatmaker, Caylee Hatmaker, Donnie Hatmaker III, and David Hatmaker; great-grandson, Grayson; sister, Sue Leach; and sisters-in-law, Rose Hatmaker, Penny (Don) Harper, and Connie (Allen) Spurlock.
Visitation will be held 6 p.m. to 8 p.m. on Wednesday, December 8, 2021 at Newcomer Funeral Home, Northwest Chapel at 7830 Hamilton Avenue in Mt. Healthy.  A funeral service will be held at 11 a.m. on Thursday, December 9, 2021 at the funeral home.  Burial will follow with military and police honors at Butler County Memorial Park in Hamilton, Ohio.
Memorials may be made to the Community Missionary Baptist Church, 4545 Forest Avenue, Norwood, OH 45212.
© 2021 – All rights reserved to LT Stephen R. Kramer RET and the Greater Cincinnati Police Museum