Clerk Typist III Dorothy Jane "Dot" (Bott) Knittel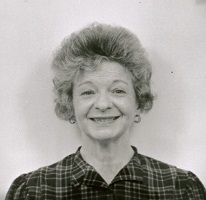 Dot was born July 10, 1936 in Wheeling, West Virginia, the second child of four daughters born to carpenter Joseph Anthony and Ann Elizabeth Bott.  She attended St. Joseph Academy in Wheeling, graduating in 1954.
From June 1954 to February 1960, Dot worked for the Federal of Bureau of Investigation as a Clerk Typist in Washington D.C.  During 1958, she also attended the American University in Washington D.C., majoring in Education.
Dot married in 1959 and she and her husband moved to Tennessee.  After having four children, in 1970 she began working again, this time as an Assistant Bookkeeper for Knittel Oil, then Bitner Oil, in Greenville, until 1986.  She moved to Cincinnati and started working for Towne Properties as a Payroll/Bookkeeping Assistant.
Dot joined the Cincinnati Police Division as a Clerk I on January 21, 1990 and was assigned to Records Section (824 Broadway).  She was quickly promoted to Data Entry Operator.  Three months later she was reclassified as a Clerk Typist I.  Eight months after that, she was promoted to Clerk Typist II.  Three years later she was promoted to Clerk Typist III and transferred to District 2 (3295 Erie Avenue).  While there she handled several jobs and, whenever she was finished with her tasks, she would look for more to do.  For the last few years, she managed the District's off duty details (and several monthly administrative reports).  She was totally devoted to and loved the people of the Cincinnati Police Department, especially the late Sergeant Steven Wong and Police Officer Sonny Kim.  Clerk Typist III Knittel retired on February 1, 2019 with 35 years of law enforcement service, including her six years with the FBI, and fifteen letters of appreciation and/or commendation, including two from police chiefs.
During 2021, Clerk Typist III Knittel's health took a grave downturn.  By August 2, 2021 she was under hospice care.  She died on Sunday morning, August 15, 2021.
She was predeceased by her sisters, JoAnne R. Reed and Marylyn S. Brubach.  Clerk Typist III Knittel is survived by her children, Thomas (Rintha) Knittel, Jr., Cynthia Louise (Tom) Barker, Kay Anne (James) Waycaster, and Christopher John Knittel; grandchildren, Sasha (Josh) Baxter, Megan Knittel, David Barker, Chelsea (Cody) Peters, Joe Haas, and Eric (Ally) Haas; great-grandchildren, Elaine Harper Haas, Riley Jane Peters, Noah Peters, Kiley Peters; nother, Alivia, on the way; and sister, Roberta Henning.
A Mass of Christian Burial will be celebrated at 10:30 a.m. on Thursday, August 26, 2021, at  Saint Cecilia Catholic Church at 3105 Madison Road.
© 2021 – All rights reserved to LT Stephen R. Kramer RET and the Greater Cincinnati Police Museum