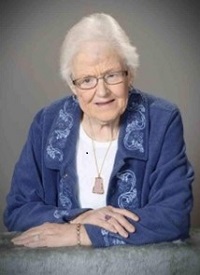 Bonnie was born March 22, 1941 in Hazard, Kentucky to Ed and Hettie (Walker) Deaton.  She attended Dilce Combs Memorial High School graduating in 1958.
Bonnie worked over twenty years in Franklin City Schools.
Bonnie then joined the Warrant County Sheriff's Office and worked in Corrections.  Data on the year she began is lost, but she retired on February 21, 1991 with about fifteen years of service.
Ms. Roseberry died at Ohio Living Mount Pleasant in Monroe on September 17, 2021 at the age of 80.
She was predeceased by her children, Robert and Debra, and grandchild, Christofer.  She is survived by her grandson, Brandon, and siblings, Paul, Mary Rose, Laura, Emma Lou, and Linda Sue.
Visitation will be held 11 a.m. to noon on Tuesday, September 28, 2021 at Breitenbach Anderson Funeral Home at 517 Sutphin Street in Middletown.  A funeral service will follow at noon.  Burial will be at Grace Memorial Gardens.
© 2021 – All rights reserved to LT Stephen R. Kramer RET and the Greater Cincinnati Police Museum