Agent Peter C. Tsipis (1933-2021)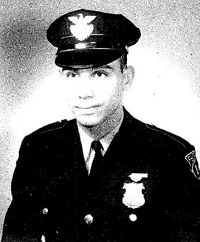 Pete was born March 23, 1933 in Athens, Greece to Constantine and Martha (Sibedor) Tsipis.  His mother had come to the United States in
Pete was born March 23, 1933 in Athens, Greece to Constantinos and Martha (Tsimbidaros) Tsipis.  His mother had come to the United States in 1910 after the Macedonian Struggle in Greece.  She returned to Greece for a visit in 1931 and married Constantine and had two sons by him: Peter and Lou.  Soon after, there was more strife in Greece culminating in it falling to Germany in 1941.  Greece was set free in October 1944, but a civil war erupted two months later.  Martha took her two sons out of Greece in 1946 to the United States.  She eventually returned home to her husband, leaving her two sons safe in the United States.
Pete attended Saint John Cantius High School and participated in bowling, junior varsity basketball as an assistant coach, the school paper, and Speech Club Vice President.  He graduated in 1953.
From March 1951 to January 1954, Pete worked as a brakeman at the New York City Railroad Terminal Tower in Cleveland.
Pete was inducted into the United States Army on January 12, 1954.  He served in the 504th MP Company in Fort Eustis, Virginia and was promoted to Private First Class within a year.  During November 1955, he was naturalized as a United States citizen.  PFC Tsipis was honorably discharged on January 11, 1956.  He then reenlisted for three years in the United States Army Reserve.
He returned to work at the railroad terminal until June 1956 when he entered Baldwin-Wallace College on the GI-Bill.  He then worked several jobs to help pay for his brother to also attend Baldwin-Wallace College.
Pete joined the Cleveland Police Department on March 1, 1957.  On June 1, 1957, he was promoted to Patrolman, issued Badge 1180, and assigned to District 4.  Patrolman Tsipis also served in District 1 and the Accident Investigation Unit.  Almost five years into his career, early in 1962, Patrolman Tsipis was offered a position with the Ohio State Highway Patrol and tendered his resignation but rescinded the request six days before it was to take effect.
On December 16, 1964, he was promoted to Detective, issued gold shield number 101, and assigned to Cleveland's Detectives Bureau.  During 1967, Detective Tsipis was officered a position with the United States Border Patrol in Los Fresnos, Texas, again tendered a resignation, and again rescinded it before its effective date.  Clearly, he was looking for his niche in federal law enforcement.
He found it in 1969.  Detective Tsipis resigned on February 5, 1969 and joined the United States Treasury Department, Alcohol, Tobacco, and Firearms Division, and was initially assigned to Youngstown.  In the first year of his career he was awarded the Certificate of Agent of the Year.  By 1973, he was assigned to the Cincinnati Office of the Bureau of Alcohol, Tobacco, and Firearms, rising to Resident Agent in Charge of Southern Ohio and Northern Kentucky regions.  Resident Agent in Charge Tsipis retired in 1989 having served Cleveland and his adopted country 35 years.
He continued his service on a parttime basis well into the new millennium conducting background investigations of prospective federal employees and Deputy United States Marshals.
Throughout his law enforcement career, he was a competitive pistol shooter.  By 1962, he led the Cleveland Police Department's Pistol Team to 1st Place in .45 ACP, 2nd Place in .38 Special, and 3rd Place in .22 Long Rifle competition at the National Pistol Matches in Camp Perry, Ohio.  By the 1980s he was arguably the best pistol shot in Hamilton County law enforcement and one of only three to shoot perfect scores at the Hamilton County Police Association Monthly Shoots.
Agent Tsipis's health failed in 2020 and 2021 and by March 2021 he was under hospice care with pneumonia.  He died at 5 p.m. on March 21, 2021, two days before his 88th Birthday.
He was predeceased by his sister-in-law, Marilyn Ann (Byers) Tsipis.  Agent Tsipis is survived by his wife of 44 years, Gaylene Sheryl (Byers) Tsipis; daughters, Maria Kay (Mark) Frenger and Martha Ann Merrett; grandchildren, Marc Frenger, Courtney Frenger, Zackery Frenger, Geoffrey (Heather) Rance, and Lindsay (Kevin) Dickman; six great-grandchildren; and brother, Lou E. Tsipis.
Private Funeral Services will be held in Canton.
A memorial service will be held in Cincinnati in the Spring and the day and time will be announced at Police-Museum.org.
© 2021 – All rights reserved to LT Stephen R. Kramer RET and the Greater Cincinnati Police Museum