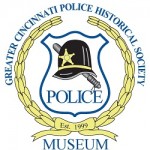 The Greater Cincinnati Police Museum
"Preserving the History of Law Enforcement in the Greater Cincinnati Area"
---
Specialist William Russell Hawthorne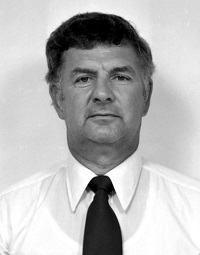 Russ was born July 25, 1929, the second of three children born to William J. and Lucille (Wiley) Hawthorne of Price Hill.  He attended Western Hills High School where he participated in baseball, public speaking, and journalism.  He graduated in 1947 and then attended the University of Cincinnati Evening College majoring in journalism.
From 1945 to 1951, Russ worked at Albers Supermarket on Glenway Avenue.
Russ joined the United States Army on March 21, 1951 during the Korean War.  After basic training he was assigned to the 11th Airborne as a paratrooper.   He served as a radio operator for the forward observer of a field artillery battery.  Later, he was a field direction chart operator, and still later he drove a truck for recruits in the Transportation Unit.  After two years and 22 jumps, Private First-Class Hawthorne was honorably discharged on March 20, 1953 with a sharpshooter's medal and parachute badge.
From 1953 to 1954, he worked at the Chevrolet Assembly Plant in Norwood.
Having finished third among 223 applicants, Russ joined the Cincinnati Police Division on July 11, 1954 as a Police Recruit.  He was promoted to Patrolman on October 11, 1954, issued Badge 490, and assigned to District 4 (754 W. 5th Street).  When District 4 moved to Vine Street, Patrolman Hawthorne transferred to District 2 (314 Broadway).  He was rotated to District 5 (1024 York Street) on October 11, 1955.  District 5 moved to 1012 Ludlow Avenue in 1957 and four years later he requested and received a transfer to District 3 (3201 Warsaw Avenue).  On February 27, 1966, he was one of the first officers promoted to the new rank of Police Specialist, issued Badge PS-74, and assigned to the Crime Bureau (City Hall).  Six months later, he returned to District 3.  A year later, he was transferred to the Vice Control Bureau.  He also served in the Criminal Investigation Section.  Specialist Hawthorne retired on September 2, 1981 with 29 years of service to his country and community and six letters of appreciation and/or commendation.
He then went to work for PNC bank and several more courses at the University of Cincinnati, became a bank manager.  After retiring from that career, he joined the Neumann Golf Course as a starter for another sixteen years, until he was 80.
After a long battle with diabetes, Specialist Hawthorne died on June 13, 2020 at the age of 90.
He is survived by his wife of 65 years, Evelyn (Broerman) Hawthorne, and children, Missy Hawthorne and Russell Hawthorne.
A funeral will be held 11:30 a.m. to 1:30 p.m. on Friday, June 19, 2020 at Dalbert, Woodruff, and Isenogle Funeral Home at 2880 Boudinot Avenue.  A FOP service will be held at 1:30 p.m.  Interment will follow at the Arlington Memorial Gardens on Compton Road in Springfield Township.
Donations may be made to the Greater Cincinnati Police Museum, 308 Reading Road, Suite 201, Cincinnati, OH  45202 or Honor Flight Tri State. 
© 2020 – All rights reserved to LT Stephen R. Kramer RET and the Greater Cincinnati Police Museum