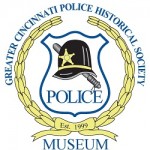 The Greater Cincinnati Police Museum
"Preserving the History of Law Enforcement in the Greater Cincinnati Area"
---
Specialist James Thomas Miles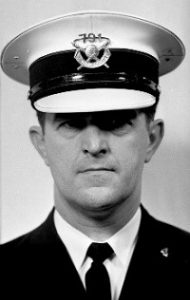 Jim was born February 21, 1928 in Cincinnati to Armour A. and Rose (Hurley) Miles.  He attended Saint Joseph Preparatory School in Bardstown, Kentucky.
At 17, Jim dropped out of school and on May 18, 1945 joined the United States Navy to fight in World War II.  His basic training was held at Great Lakes Naval Base and he was initially assigned as a Telephone Lineman in the Naval Construction Battalion (Seabees).  After the war, on September 7, 1947, he transferred to the United States Coast Guard and worked in ship construction.  Electricians Mate 3rd Class Miles was honorably discharged September 9, 1950 with Navy Occupations, American Defense, and American Theatre medals.
Jim worked as a printer and pressman at Review Publishing Company for five months in 1953 and as a machinist for six months at Lunkenheimer Valve Company.  From November 1953 to February 1955 he worked as a machinist at Buckles Machine Works and then at Pathon until July 1955.
Jim joined the Cincinnati Police Division on July 3, 1955 as a Police Recruit.  On October 10, 1955, he was promoted to Patrolman, issued Badge 791, and assigned to District 7 (813 Beecher Street).  A year later he was rotated to District 1 (310 Lincoln Park Drive).  He also served in District 5 (1012 Ludlow Avenue) and District 4 (7017 Vine Street).  On April 7, 1968, he was promoted to Police Specialist, issued Badge PS-52, and assigned to the Tactical Unit.  He returned to District 4 after eight months.  On February 7, 1971, Specialist Miles transferred to Intelligence Section.  On July 21, 1974, he transferred to Criminalistics Unit.  Specialist Miles retired March 1, 1980 with 30 years of service to his country and community.
Becoming restless in retirement, Specialist Miles joined the Security Department at Western Southern Life Insurance and served there for ten years.  He retired again and moved to Florida.
Specialist Miles died September 19, 2020 at the age of 92 in Crystal River, Florida.
He was predeceased by his wife, Jacqueline Miles (2017).  Specialist Miles is survived by his son, Larry Miles; stepsons, Leo Rittenhouse, and Leon Rittenhouse; and a granddaughter, Jackie.
Services were held with the family in Florida.
© 2020 – All rights reserved to LT Stephen R. Kramer RET and the Greater Cincinnati Police Museum