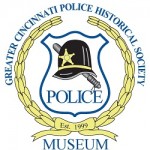 The Greater Cincinnati Police Museum
"Preserving the History of Law Enforcement in the Greater Cincinnati Area"
---
Specialist Charles "Ed" Ruehlman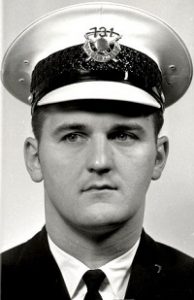 Specialist Charles E. "Ed" Ruehlman PS-73 (1941-2020)
Ed was born September 29, 1941 to James Edward and Elsie M. Ruehlman.  He attended McNicholas High School and graduated in 1959.
After high school he worked for Kunz Construction Company until November 1959.
Ed enlisted in the United State Marine Corps on November 19, 1959.  He completed boot camp in San Diego and Crash, Fire, and Rescue School at the Naval Air Station in Memphis.  He was then assigned to the Marine Corps Air Stations in Santa Ana, California and Iwakuni, Japan.  Lance Corporal Ruehlman was honorably discharged on November 19, 1963 with a Good Conduct Medal and Marksman Badge.
From December 1963 to March 1965 he worked as a mechanic at Ruehlman's Sohio on Beechmont Avenue.
Ed joined the Cincinnati Police Division on March 22, 1965 as a Police Recruit.  On June 28, 1965 he was promoted to Patrolman, issued Badge 731, and assigned to District 7 (813 Beecher Street).  On July 3, 1966 he was rotated to District 4 (7017 Vine Street).  Five months later he was returned to District 7.  On July 16, 1972 he transferred to the Tactical Patrol Section.  On January 7, 1973 he transferred District 1 (310 Lincoln Park Drive).
On January 28, 1979 Officer Ruehlman transferred to the Criminal Investigation Section, Robbery Squad (222 East Central Parkway).  Through a Law Enforcement Assistance Administration grant, the Police Division purchased covert, motorized cameras to be installed in high-robbery locations such as convenience stores, pharmacies, gas stations, and jewelry stores.  The project was called the Robbery Apprehension Program and Officer Ruehlman was its coordinator. He was promoted to Police Specialist on November 8, 1981 and issued Badge PS-73.  Specialist Ruehlman retired on December 7, 1991 with thirty years of service to his country and community and twenty-five letters of appreciation and/or commendation.
He then began another career as a fraud investigator with the Fifth/Third Bank Corporation.  He also served as an usher at the St. Jerome Roman Catholic Church.
Specialist Ruehlman valiantly battled Parkinson's Disease.  He died in his sleep on October 10, 2020 at the age of 79.
Specialist Ruehlman is survived by Theresa C. "Carol" (Gibbons) Ruehlman; son, Todd A. (Kimberly) Ruehlman; grandchild, Kyle Ruehlman; and siblings, Phyllis (Jim) Hope, Kay (Terry) Thompson, Richard "Brent" Ruehlman, and Marylynn (Rob) Brechmann.
Visitation will be held 9:30 to 10:30 a.m. on Saturday, November 7, 2020 at Guardian Angels Church in Mt. Washington.  A FOP service will be held at 9:45 a.m.  A Mass of Christian Burial will be celebrated at 10:30 a.m.
Memorials may be made to the Wellness Community of Greater Cincinnati.
© 2020 – All rights reserved to LT Stephen R. Kramer RET and the Greater Cincinnati Police Museum