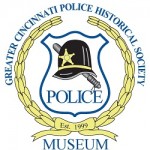 The Greater Cincinnati Police Museum
"Preserving the History of Law Enforcement in the Greater Cincinnati Area"
---
Sergeant Wesley Clayton "Wes" Loyd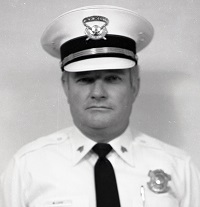 Wes was born September 20, 1936 in Des Moines, Iowa to Clayton and Gladys (Barr) Loyd.  The family moved to Conimicut, Rhode Island and Wes attended Gorton High School.  He was the Class vice president and president, respectively, in his first two years, Student Council vice president in his junior year, and served on the Executive Committee. He was the Captain of the varsity football team and participated in Hi-Y, Letterman, Senior Play, Band, Orchestra, Follies, Prom Committee, City Government Program, and Assemblies.  He graduated in 1955.
Wes joined the United States Army on October 24, 1955 and served in Artillery as an anti-aircraft artillery weapons mechanic.  Specialist 4 Loyd was honorably discharged on October 23, 1957.
From 1958 to 1960 he attended Graceland College in Lamoni, Iowa with a major in Science and minors in Education and Mathematics.
He moved to Cincinnati and, from September 1960 through March 1962, was a parts handler for American Motors in Sharonville.  He also attended Miami University in Oxford and majored in Literature.
On March 8, 1962, the Cincinnati Civil Service Commission announced that Wes topped the list of 189 applicants for the position of Police Recruit.  He was appointed on April 2, 1962.  On July 9, 1962 he was promoted to Patrolman, issued Badge 471, and assigned to District 7 (813 Beecher Street).  Little more than a month later, he resigned to go return to Graceland College.  Less than a year later, on June 9, 1963, Wes was reinstated to the Police Division, issued Badge 432, and reassigned to District 7.
Also in 1963, during October, he was elected Church School Director at the Cincinnati Branch of the Reorganized Church of Jesus Christ of Latter-Day Saints.
On September 24, 1967, he was promoted to Police Specialist and issued Badge PS-59.  He transferred to the Tactical Unit April 14, 1968 and a week later he was assigned to the Crime Bureau (City Hall).  Almost two years after that, Specialist Loyd transferred to the Intelligence Section (222 E. Central Parkway).  He was promoted to Sergeant on September 22, 1974, issued Badge S-98, and two months later transferred to Internal Investigation Section (310 Lincoln Park Drive).  On August 24, 1975, Sergeant Loyd returned to the Intelligence Section.  Over the next sixteen years, he also served in District 1, Central Vice Control Section, and Operational Support Section (Special Weapons and Tactics Team).  Sergeant Loyd retired on July 6, 1991 with 30 years of service to our country and community and 35 letters of appreciation and/or commendation, including six from Cincinnati Police Chiefs.
Sergeant Loyd was diagnosed with Lewy Body Dementia.  During the last week of June 2020, he was additionally diagnosed with Parkinson's Disease.  He died in Hospice of Cincinnati in Beechmont at 4 p.m. on July 1, 2020.
Sergeant Loyd is survived by his wife of 31 years, Terrie Lee (Conlon) Loyd; children, Daniel (Doreen) Thomas and Kimbery (Dennis) Ford; grandchildren, Taylor Ford, Erin Ford, Aiden Thomas, and Harper Thomas; and sister, Lorayne (late Ken) Boswell.
A celebration of life will be held 10 to 11 a.m. on Monday, July 13, 2020 at St. Thomas More Church at 800 Ohio Pike in Withamsville.  A FOP service will be held at 10:45 a.m.  A Memorial Mass will be celebrated at 11 a.m.
Memorials may be made to the Greater Cincinnati Police Museum, 308 Reading Road, Suite 201, Cincinnati, OH  45202 or Hospice of Cincinnati.
© 2020 – All rights reserved to LT Stephen R. Kramer RET and the Greater Cincinnati Police Museum