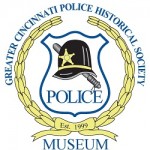 The Greater Cincinnati Police Museum
"Preserving the History of Law Enforcement in the Greater Cincinnati Area"
---
Sergeant Lucian L. "Butch" Guy)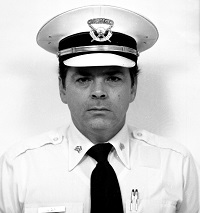 Butch was born April 18, 1940.  He participated in Track at and graduated from Mt. Healthy High School in June 1959.
Also in June 1959, he began work as a stockman at Diamond Gardner in Lockland.  During October 1959, he took a position as a stock clerk at Kroger's in White Oak until April 1962.
While working at Kroger's, during October 1960, Butch joined the United States Marine Corps Reserves and served six months active duty.  He was honorably discharged about 1966.
Butch joined the Cincinnati Police Division as a Police Recruit on April 2, 1962.  He was promoted to Patrolman on July 9, 1962, issued Badge 228, and assigned to District 3 (3201 Warsaw Avenue).  He also bowled in the FOP League and on February 23, 1963 rolled a perfect 300; the first perfect game in the league's 22-year history.  During April 1963 he was rotated to District 1 (310 Lincoln Park Drive).  Eight years later, during 1971, Patrolman Guy transferred back to District 3.
After finishing third on a competitive examination, he was promoted to Police Specialist on June 18, 1972, issued Badge PS-51, and assigned to the Criminal Investigation Section.  At the beginning of 1974, he transferred to District 7 (813 Beecher Street) and at the end of 1974 to the Criminalistics Unit.  During September 1975 he transferred to District 4 (7017 Vine Street).  Three months later he transferred to Vice Control Bureau where, after a recent scandal, men were needed whose ethics were above reproach – his were.  Three years later, Specialist Guy transferred back to District 1.
On January 29, 1979, he was promoted to Sergeant, issued Badge S-93, and reassigned to District 4.  On January 23, 1983 Sergeant Guy transferred to District 3 and took over the Mini-Tac Covert Unit.  Little more than a year later, he transferred to the Homicide Unit and, among other duties, coordinated investigations of robberies of financial institutions.  During 1988, Sergeant Guy headed up the successful task force established to identify and capture the Senior Stalker responsible for robberies of as many as thirty elderly people.  On April 8, 1995 Sergeant Guy retired with 33 years of service in the Police Division and 29 letters of appreciation and/or commendation.
During 1974, Specialist Guy began working additionally as a night clerk at the Hamilton County Coroner's Office.  Upon retirement in 1995, he took over as Chief Night Clerk.  He resigned from that position in 2012 after 52 years of service to his country, city, and county.
Sergeant Guy fought deteriorating eyesight and hearing for years.  About 2015, he began another battle with Parkinson's Disease.  He died peacefully at home surrounded by loving family on February 22, 2020, just weeks short of his 80th birthday.
He was predeceased by his siblings, Gloria Ritter, Hedy Patterson, and Cheryl Holder.  Sergeant Guy is survived by his wife of 58 years, Eva Marie (Schmidt) Guy; children, Eva Marie "Evie" (John) Trentman and Hamilton County Sheriff's Office Lieutenants Matthew (Jen) Guy and Andrew (Mary) Guy; grandchildren, Jacob (Sheva), Joshua (Kristen), Catherine, Steven (Hannah), Cullen, Christopher, Lydia, Ryan, and Adam; great-grandchild, Finley; and siblings, Amber Wayt, James (Marilyn) Holder, Jr., and Craig (Gail) Holder.
Visitation will be held on Friday, February 28, 2020 from 5 to 8 p.m. at Mihovk-Rosanaker Funeral Home at 5527 Cheviot Road near North Bend Road.  .  A FOP service will be held at 7:45 p.m.  A Mass of Christian Burial will be celebrated on Saturday, February 29, 2020 at 10 a.m. at Little Flower Catholic Church at 5560 Kirby Avenue.  A reception will be held immediately following at the Green Township Senior Center at 3620 Epley.
Memorials may be made to the Greater Cincinnati Police Museum at 308 Reading Road, Cincinnati, OH 45202 or Hospice Cincinnati.
© 2020 – All rights reserved to LT Stephen R. Kramer RET and the Greater Cincinnati Police Museum