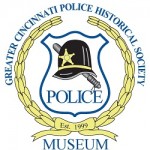 The Greater Cincinnati Police Museum
"Preserving the History of Law Enforcement in the Greater Cincinnati Area"
---
Sergeant Leo Carroll O'Neill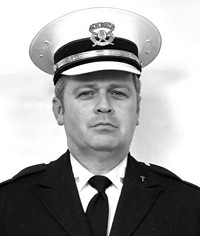 Leo was born January 1, 1937 in Maysville, Kentucky, the sixth of seven children born to Charles T. and Alice (Slattery) O'Neill.  He attended St. Patrick High School in Maysville, graduating during 1955.
Leo joined the United States Army on August 15, 1956 and served as a Shortwave Radio Operator in an Armored Division and later as a Chief Radio Operator.  Corporal O'Neill was honorably discharged on July 30, 1958.
From September 1958 to October 1959, Leo worked as a rodman doing field surveys for the Kentucky State Highway Department Division of Engineering.  For a few months thereafter he sorted mail for the United States Postal Service.  Then, until 1961, he worked as a production inspector for Chevrolet in Norwood.
Leo joined the Cincinnati Police Division on May 22, 1961 as a Police Recruit in Recruit Class No. 39.  He was promoted to Patrolman August 28, 1961, issued Badge 781, and assigned to District 6 (3295 Erie Avenue).  On January 1, 1963 he was rotated to District 7 (813 Beecher Street).  He was promoted to Police Specialist on November 19, 1967, issued Badge PS-43, and reassigned to District 6.  Specialist O'Neill also served in the Tactical Unit, Criminal Investigations Section, and the Criminalistics Section.  On January 14, 1973, he was promoted to Sergeant, issued Badge S-77, and again assigned for a fourth tour in District 6.  Sergeant O'Neill also served in the Public Vehicles Office, Youth Aid Unit, and Traffic Section.  Sergeant O'Neill retired May 4, 1989 with nearly thirty years of service to his country and community and 37 letters of appreciation and/or commendation.
Sergeant O'Neill then served Cincinnati as a Security Officer for the Cincinnati Water Works.  He was also a member of the Knights of Columbus and a Life Member of the Fraternal Order of Police Lodge No. 69.
Sergeant O'Neill was under hospice care for a few weeks before dying about 11:30 a.m. on November 4, 2020 at the age of 83.
He was predeceased by his siblings, Margaret Ann (Tom) Comer, Charlotte (George Ashley, Noreen (Ed) Comer, Charles T. (Mary Janet) O'Neill, Jr, and Jamesene (David) Gibson.  Sergeant O'Neill is survived by his wife of almost sixty years, Lillian (Ryan) O'Neill; daughters, Carol (O'Neill) Osborne, Regional Crime Information Center Manager Peggy O'Neill, and Janet O'Neill; grandchildren, Cecelia (Nick) Smith and Lance Osborne; great-granddaughter, Isabella Smith; and sister, Lilliam (Richard) Beaulieu.
Visitation will be held 9:30 to 10:30 a.m. on Wednesday, November 11, 2020 at St. Rose Church at 2501 Riverside Drive A Mass of Christian Burial will be celebrated at 10:30 a.m.  Internment will follow at St. Patrick Cemetery in Maysville.
Memorials may be made to St. Patrick School, 318 Limestone Street, Maysville, KY 41056 or to a charity of your choice.
© 2020 – All rights reserved to LT Stephen R. Kramer RET, PO Scott Poe RET, SGT Rudy Gruenke RET, and the Greater Cincinnati Police Museum