Sergeant George William Bredestege Sr.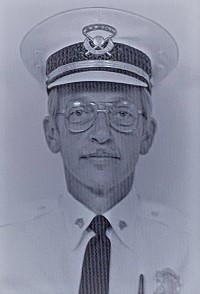 George was born August 26, 1940, the seventh of ten children born to Joseph John and Velma (Simko) Bredestege.  He attended the Sacred Heart Academy and Sacred Heart Seminary, graduating in 1958.
Also beginning in 1958 George worked at Shillito's Department Store in the stock room.  During January 1959 he began working as a mail boy at the General Electric Company and later as a shop apprentice.
Also during 1959, George entered college in the Engineering College of the University of Cincinnati, majoring in Mechanical Engineering.  He switched his major to Police Science and earned an Associate Degree, then a Bachelor of Science degree – while also studying anthropology and archaeology.  Over time he took many diverse courses, including computer science and photography, at or sponsored by many institutions including Xavier University, Ohio State University, University of Virginia, Northwestern University, Southern Police Institute, and the FBI Academy.
George joined the Cincinnati Police Division on April 11, 1960 as a Police Cadet.  Cadet Bredestege served in Personnel Section (310 Lincoln Park Drive), District 5 (1012 Ludlow), and Central Station (City Jail at City Hall).  He was appointed Police Recruit on April 2, 1962 and promoted to Patrolman on July 9, 1962, issued Badge 41, and assigned to District 3 (3201 Warsaw Avenue).  On April 14, 1963 he was rotated to District 2 (314 Broadway).  On April 14, 1968 he was promoted to Police Specialist and issued Badge PS-143.  District Two was disestablished in 1969 and Specialist Bredestege was absorbed into District 1.  During 1971 he served as the community liaison between the new Sector Two and the residents inf that sector.  A year later, he was named to a task force tasked that created policies for policing in the community sector program.  Specialist Bredestege transferred to the Training and Education Section on March 24, 1974 where he became an innovative audio-video expert.  He described his work as "easy" and "directed towards preparation to enter the Kingdom of God."
He was promoted to Sergeant on November 4, 1981, issued Badge S-10, and assigned to District 3.  By then, Sergeant Bredestege had become the de facto historian for the Police Division and in addition to educating police recruits in law enforcement history, he would give slide presentations at libraries and other community venues.  Sergeant Bredestege also served four years in District 4 (4150 Reading Road).  He was regarded by police officers and commanders alike as an excellent supervisor.  Sergeant Bredestege retired out of District 3 with 33 letters of appreciation and/or commendation including ten from police chiefs and one each from the City Manager and Hamilton County Sheriff.
He then served part time as a Hamilton County Parks Ranger and retired again in 2006 with 46 years of law enforcement service.  He then worked in security at Cincinnati Public Schools and retired again.
Sergeant Bredestege suffered from several maladies including partial paralysis and ended up in Bayley Community in Delhi for several years.  An avid photographer, to overcome his physical impairment, he affixed an apparatus and camera to his wheelchair in order capture stunning images in and around the campus and share them with the world on a dedicated Facebook page.
He contracted COVID in mid-December and with his comorbidities was eventually placed on a respirator.  Before his death he was visited and blessed by a bishop and three priests.  He began his transition to the Kingdom of God at 5:42 p.m. on Christmas Day 2020 at the age of 80.
He was predeceased by his former wife, Martha (Deters) Bredestege (2018), and siblings, Louis Herling, Mary Alice Roeder, Joseph Bredestege, and Frank Bredestege.  Sergeant Bredestege is survived by his children, George William (Angie) Bredestege, Delhi Fire Lieutenant Michael Joseph (Trina) Bredestege, Jeanette C. Bredestege), and Martha Marie "Marti" Bredestege-Gardner; grandchildren, Michael Kane, Liesl Neyer, Sarah Menner, Joseph Bredestege, Diana "Dee Dee" Bredestege, Kaylee Bredestege, Grace Bredestege, Kaitlyn Bredestege, Matthew Bredestege, Jeanne Bredestege, and Carissa Szalkowski; great-grandchildren, Ryann, Collin, Ian, Christian, Jace, Elijah, David, Robert Jr., and Zion; and siblings, Lawrence Bredestege, Charles Bredestege, Velma Lough, Paula Hartinger, and Betty Lyons.
Services will be private.  Interment will be at St. Joseph (New) Cemetery on Thursday, December 31, 2020.
Memorials may be made to Bayley Place Resident Activities Department, 990 Bayley Drive, Cincinnati, OH  45233.
© 2020 – All rights reserved to LT Stephen R. Kramer RET and the Greater Cincinnati Police Museum