Police Officer William Edward "Bill" Bridgeford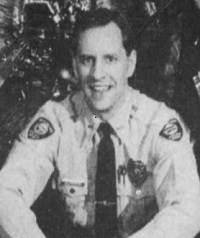 Bill was born July 29, 1948 in Cincinnati to Wallace, a Checker Cab driver, and Lora Mae (Ross) Bridgeford.  He attended Western Hills High School where he participated in football, baseball, wrestling, and the "Maroon W."  He graduated in 1966.
Bill joined the United States Army during 1967 and the Vietnam War.  He was assigned to the Military Police.  which inspired him to a vocation in law enforcement.  He was honorably discharged in 1970.
He returned home and began working in construction.  Bill married Pamela Jean "Pam" Tuck on August 7, 1971 at Western Hills Church of Christ.
Bill joined the Wyoming Police Department on October 20, 1975 as a Police Officer.  During 1977, he earned a Bachelor of Science degree in Criminal Justice.  Officer Bridgeford joined the Hamilton County Police Association (HCPA) Special Weapons and Tactics (SWAT) team in 1978.  Before 1990, he joined the Most Wanted all-police band as a lead vocalist.  In 1994, Officer Bridgeford was elevated to the HCPA SWAT field commander.  He retired from Wyoming in 1999 with 28 years of service to his country and community.
He then became a firearms instructor at Diamond Oaks, retiring after another twenty years in 2019.
Officer Bridgeford was also a founding member of the band, Déjà vu.
During November 2020, Officer Bridgeford and his wife contracted COVID-19.  He had been hospitalized and on a respirator for two weeks when, on December 2, 2020, surrounded by family, he died.  He was 72.
Officer Bridgeford is survived by his wife of 49 years, Pamela Jean (Tuck) Bridgeford; daughters, Allison (Doug) Phillips, Andrea Daniel, and Lauren Bridgeford; and grandchildren, Zachary Phillips, Megan Phillips, and Luke Phillips.
Due to the COVID environment, a private service will be held at the convenience of the family.
Memorials may be made to Oak Hills Presbyterian Church, 6233 Werk Road, Cincinnati, OH  45248.
© 2020 – All rights reserved to LT Stephen R. Kramer RET and the Greater Cincinnati Police Museum