Sergeant Morris K. John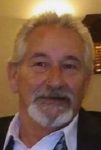 Morris was born on May 23, 1950 to Carl and Maudie (Sammons) Johns.
He joined the Bellevue Police Department as a Patrolman.  On September 27, 1974 Patrolman Johns completed a basic training course conducted by the Kentucky State Justice Department Bureau of Training.  By 1978, he joined the Newport Police Department.  He was promoted to Sergeant during 1984.  Sergeant Johns left law enforcement in the late 1980s with fifteen years of service.
Sergeant Johns died on December 13, 2020 at his Fort Wright residence.  He was 70 years old.
He was predeceased by his brother, William Jay Lewis.  Sergeant Johns is survived by his daughters, Christina Muhleisen, Kimberly Kitts, Nichole Turner, Amber Morano, and Ashley Johns; 14 grandchildren; 20 great-grandchildren; siblings, Pauline Carson, Paula Lewis, and Carl Hiatt; and life partner, Kim Davis.
Visitation and a funeral service were held on December 16, 2020 at Linnemann Funeral Homes in Erlanger.  A mausoleum entombment was held at St Mary Cemetery in Fort Mitchell.
Memorials can be made to St Jude Children's Research Hospital, 262 Danny Thomas Place, Memphis TN, 38105.
© 2020 – All rights reserved to LT Stephen R. Kramer RET and the Greater Cincinnati Police Museum