Police Officer Garry Edward Fritsch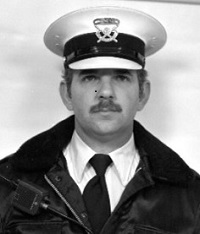 Garry was born June 12, 1942 in Cincinnati to Edward R. and Elvera (Eiserman) Fritsch.  He attended Norwood High School where he played football and was a member of the Spanish Club and Sigma Alpha Tau.  He graduated during 1960.
Garry worked as a driver/salesman for the Coca-Cola Company from 1960 to 1966 and for Schoenling Brewing Company from 1966 to 1967.
Garry joined the Cincinnati Police Division as a Police Recruit on November 19, 1967.  He was promoted to Patrolman on February 25, 1968, issued Badge 538, and assigned to District 5 (1012 Ludlow Avenue).  Exactly five years later, he transferred to District 1 (310 Lincoln Park Drive) where he spent the next 22 years.  Police Officer Fritsch retired out of the District 1 Investigative Unit on April 8, 1995 with 27 years of service and 27 letters of appreciation and/or commendation, including three from Police Chiefs.
Officer Fritsch was diagnosed in 2019 with bladder cancer.  After a ten-month battle, he passed away on April 8, 2020, exactly 25 years after his retirement, at the age of 77.
He was predeceased by his wife of 56 years, Linda L. (White) Fritsch less than a year ago and sister, Jan Koenig.  He is survived by his children, Lisa Fritsch and Toni Sarbach, and grandchildren, Baylee Sarbach, and Cole Sarbach.
The family will visit with friends 12 to 1 p.m. on Saturday, June 12, 2021 at Arlington Memorial Gardens in the Legacy Room of the funeral home at 2155 Compton Road.  A FOP service will be held at 1 p.m. followed by a memorial service.
Memorial donations may be made to the Greater Cincinnati Police Museum or St. Jude Children's Research Hospital.
© 2020 – All rights reserved to LT Stephen R. Kramer RET and the Greater Cincinnati Police Museum