Police Chief Walter Frederick "Butch" Obermeyer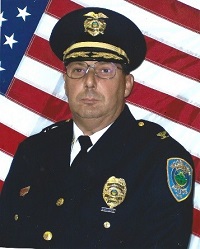 Butch was born March 3, 1947 in Batavia to Walter W. (of the Cincinnati Recreation Commission) and Evelyn E. (Gardner) Obermeyer.  He attended Purcell High School where he participated in intramural sports and graduated in 1966.
Butch joined the United States Air Force during the runup to our involvement in the Vietnam War.  He was honorably discharged.
He then joined the Woodlawn Police Department during 1973 as a Patrolman.  He was promoted to Sergeant on May 24, 1977.  On November 15, 1978 he was instrumental in locating a Montgomery County Deputy Sheriff who was held hostage in a car after a botched Dayton bank robbery.  By 1979 he was promoted to Lieutenant.  On September 15, 1995, Woodlawn celebrated Lieutenant Obermeyer's retirement.   But after a recurring injury to the Woodlawn Police Chief during 1997, Lieutenant Obermeyer was brought out of retirement and appointed Chief.  During 2002, he temporarily left the office and stepped into the Village Manager position for a couple of years.    Chief Obermeyer retired during July 2013 with more than 40 years of service to his country and community.
He was also a member of Our Lady of Sorrows Parish in Monroe.
Chief Obermeyer suffered from heart disease and died on December 3, 2020 at the age of 73.
Chief Obermeyer is survived by his wife of 54 years, Patricia Obermeyer; children, Deborah Ann Obermeyer, Denise Renee Obermeyer, and Robert Anthony (Sherry) Obermeyer; grandchildren, Harold (Amanda) Obermeyer, Brian (fiancé Myranda) Obermeyer, Payton Obermeyer, and Autumn Obermeyer; and great-grandson, Finn Obermeyer.
Visitation will be held 5 to 8 p.m. on Wednesday, December 9, 2020, at Hodapp Funeral Home at 8815 Cincinnati Columbus Road in West Chester.  A Mass of Christian Burial will be celebrated at 11 a.m. on Thursday, December 10, 2020, at Our Lady of Sorrows at 330 Lebanon Street in Monroe.  Burial will follow at Gate of Heaven Cemetery in Montgomery.
COVID contingencies will be observed during visitation and all rites and service.
© 2020 – All rights reserved to LT Stephen R. Kramer RET and the Greater Cincinnati Police Museum