Lieutenant Richard John "Dick" Dwyer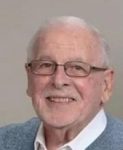 Dick was born September 17, 1936 to Lawrence and Helen (Mandery) Dwyer of Fairmount.  We believe he attended Central Vocational High School.
He was employed by Brown and Williamson Tobacco Company for 35 years.
Dick also joined the Colerain Township Police Department as a Patrolman; we believe in the early 1970s.  During the later 1970s, he was promoted to Sergeant with duties including managing the other parttime personnel.  Still later, he was promoted to Lieutenant.
He attended Landmark Cincinnati Church.
Lieutenant Dwyer and his wife contracted COVID.  He died on October 27, 2020.
He was predeceased by his son, Scott D. "Otis" Dwyer.  Lieutenant Dwyer is survived by his wife of 64 years, Joy Ann (Weisbrodt) Dwyer; daughter, Elizabeth Suzanne Dwyer; grandchildren, Mitchell Stein and Payton (Shaylyne) Stone; and great-granddaughter, Faith Stein.
Services are pending.
© 2021 – All rights reserved to LT Stephen R. Kramer RET and the Greater Cincinnati Police Museum