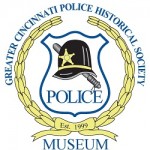 The Greater Cincinnati Police Museum
"Preserving the History of Law Enforcement in the Greater Cincinnati Area"
---
Patrolman Ralph Milton "Ike" Adams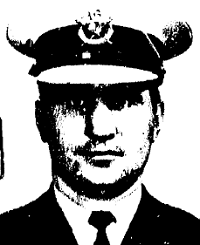 Ike was born October 21, 1929 in Cincinnati to Ralph Lee and Christine (Radeke) Adams of Gladstone Drive in the East End.  He attended Woodward High School at 13th and Sycamore Streets, graduating in 1947.  During high school, he played football for the Mount Auburn Club.  He married Doris A. Coyne on October 31, 1950.
Ike joined the Cincinnati Police Division on December 15, 1950 as a Police Recruit.  On March 15, 1951, he was promoted to Patrolman, issued Badge 16, and assigned to District 2 (314 Broadway).  On January 1, 1953, he was rotated to District 6 (3295 Erie Avenue).  He also served in Districts 4 (754 West Fifth Street) and 1 (310 Lincoln Park Drive).  Patrolman Adams resigned March 20, 1960 to pursue a career in advertising.  By then he had served 9¼ years and earned seven letters of appreciation and/or commendation, including four from the police chief.
He went to work at the Rueben H. Donnelly Corporation.  Later, he took positions in sales and security.  He also coached boys football teams in the East End plus junior high teams at St. Margaret of Cortona in Fairfax and St. Dominic in Delhi.
In retirement, he purchased Junker's Tavern in Northside, a laundromat, and an apartment building.  He also owned and operated a small landscaping and lawn care business.
Patrolman Adams died on Wednesday, June 24, 2020 at the age of 90.
He was predeceased by his sister, Christine "Margie" (William) Welch.  Patrolman Adams is survived by his children, Jody (Bradley) Gray, Ralph Michael Adams, and Lisa (Frank) Wetenkamp; grandchildren, Jennifer (Kris) Johnson, Elizabeth (Joshua Hill) Gray, Emily (Ben Propkop) Wetenkamp, Nikkie Wetenkamp, Frank (Alexandrea) Wetenkamp, John (Morgan) Wetenkamp, Ryan Adams, and Ross Adams; and great-grandchildren, Benny Prokop, Cody Prokop, and Grayson Adams.
Due to the COVID 19 Pandemic dictates, a private service will take place for family members followed by interment at Pierce Township Cemetery.
Memorials may be made to the Alzheimer's Association, St. Joseph Indian School, Oxbow, Inc., or the Western Wildlife Corridor.org.
© 2020 – All rights reserved to LT Stephen R. Kramer RET and the Greater Cincinnati Police Museum.