Lieutenant James Edmond Walsh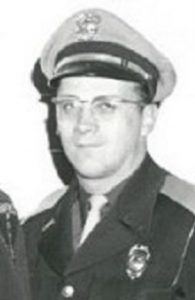 Jim was born September 27, 1933, in Medford, Massachusetts, to Frank Leo Walsh and Helen Catherine Pender Morgan.
After graduation from High School and near the end of the Korean War, Jim enlisted in the United States Army.  He served for three years, including almost two years in West Germany.
About 1956, Jim joined the Fairfield City Police Department as a Patrolman.  Patrolman Walsh married Marlene Mae Best on October 5, 1957.  During the next several years, he was promoted through the ranks to Lieutenant.  He resigned in 1962.
During September 1962, Lieutenant Walsh began work for the First National Bank in Cincinnati while attending night classes.  He received a Bachelor of Science in Business.  Then he earned a Juris Doctorate from Salmon P. Chase College of Law in 1966 and began private practice as an attorney.  From 1967 to 1971 he served as an assistant Butler County Prosecutor.  He began serving the City of Fairfield as a part time judge in 1979, then as a full-time judge until 1991. He was elected to the State of Ohio 12th District Court of Appeals in February 1991.  He retired from the Court during February 2009.
In retirement he volunteered for the Butler County Public Defenders' Office writing briefs and summaries of United States Supreme Court cases for distribution to the attorneys.  He was a Mock Trial Adviser for Fairfield High School for many years.
Judge Walsh died on Friday, November 27, 2020 at the Ann Carter Wing at Berkeley Square.  He was 87 years old.
He was predeceased by his wife, Marlene Mae Walsh (2003).  He is survived by his children, James (Judy) Walsh, Jr. and Susan (Joe) McAbee; grandchildren, Rachel (Chad) Stanfield, Laura (Scott) Lieffers, Joseph Jr. (Lauren) McAbee, and Ian Kilton; great-granddaughters, Madison Stanfield, Lucy Mae Lieffers, Emma McAbee, Charlotte McAbee, and Violet McAbee; sister, Helena Kuhn; and sweetheart, Nancy Albright and her family, Diana and Mike Sheard, Carol Thomas, Scott Thomas, and Trace Thomas.
Visitation will be held 9 to 10 a.m. on Friday, December 4, 2020 at the Zettler Funeral Home at 2646 Pleasant Avenue.  Prayers will be offered at 10 a.m. and a funeral liturgy will be held at 10:30 a.m. at St. Ann Church in Hamilton.  Burial will be in St. Stephen Cemetery.
In lieu of flowers, donations may be made to St. Ann Church, 3028 Pleasant Avenue, Hamilton, OH 45015 or the Fairfield Township Veterans Memorial c/o The Fairfield Community Foundation, 5350 Pleasant Avenue, Fairfield, OH 45014.
© 2020 – All rights reserved to LT Stephen R. Kramer RET and the Greater Cincinnati Police Museum