Captain Glenn Louis Fred Kestler, Sr.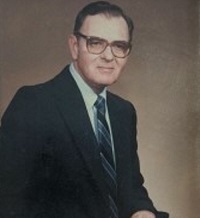 Glenn was born January 10, 1932 in Cincinnati to John James Krell and Dorothy N. (Miller) Kestler of the West End.
He served in the military during the Korean War.
Glenn was a long-time member of the Cincinnati Private Police Association.  He was a training officer and National Rifle Association-certified Firearms Instructor.  From the late 1960s to the early 1980s, he served as the Captain of the Topper Ballroom at Cincinnati Music Hall.
Captain Kestler was also a truck driver and retired from that occupation with the United Parcel Service.
He was an Endowment-level Life Member of the National Rifle Association, Lifetime Endowment Member of the Miami Rifle and Pistol Club, and member of the Butler County Sportsmen's Club.
Captain Kestler died April 4, 2020 at the age of 88.
He was predeceased by his siblings, John Kestler, Jr., Gene Kenneth Bernard (Shirley) Kestler, Neil Edward (Mary) Kestler, and Dorothy Morris; and stepson, William Baugh.  Captain Kestler is survived by his wife of 33 years, Barbara (Timberlake-Baugh) Kestler; children, Glenn (Frances) Kestler, Jr., Karen (Bob) Fathman, and Dale Kestler; stepchildren, Charles (Vicki) Baugh and David (Holly) Baugh; grandchildren, Michael Kestler, Becky Costa, and Joel Fathman; seven step-grandchildren; twelve step-great-grandchildren; and siblings, Roy William (Sue) Kestler, Larry Allen (Louise) Kestler, and Carol Marlene (Jack) Phillipps.
Services will be held at the convenience of the family.
Memorials may be made to Hamersville Baptist Church at 1661 OH-125, Hamersville, OH 45130; Brown County Animal Shelter at 100 Veterans Boulevard, Georgetown, OH 45121; Small Animal Adoption Center (The Lincoln House) at ​422 Lincoln Avenue, Georgetown, OH 45121; or Hospice of Cincinnati at P.O. Box 633597, Cincinnati, OH 45263.
© 2020 – All rights reserved to LT Stephen R. Kramer RET and the Greater Cincinnati Police Museum.