Cincinnati Detective William L. Dunn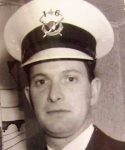 Born April 12, 1930, Bill Dunn attended Hughes and Central Vocational High School until 1946. On July 29, 1948, he enlisted in the United States Army and served overseas during the Korean Conflict. He was honorably discharged as a Sergeant April 29, 1952.
Three months later, the veteran was appointed as a Recruit in the Cincinnati Police Division on September 15, 1952. He was transferred November 17, 1952 to District Four. On January 1, 1953, having graduated Recruit School, Patrolman Dunn (Badge 146) was assigned to District 2 and would eventually serve in Districts 6, 7, and 4. He was promoted to Detective (Badge D-46) on September 1, 1963 and would thereafter serve at Detective Headquarters and Criminal Investigation Section. He retired July 3, 1982 having served his country and his community more than 34 years.
During his career, especially as an investigator, Detective Dunn built a solid reputation and assisted with or was personally responsible for a number of major cases solved. Please click here for a photographic replication of a notebook compiled by his adoring wife, Katie.
©2013 Greater Cincinnati Police Historical Society, Mrs. Katherine Dunn, Lt. Patrick Olvey (RET), and Lt. Stephen R. Kramer (RET)