About Us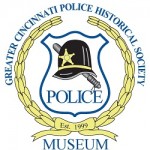 The Greater Cincinnati Police Museum
"Preserving the History of Law Enforcement in the Greater Cincinnati Area"
---
The Greater Cincinnati Police Museum
After decades of talking about and studying the idea, seven years of formally planning it, and four years of construction and fund raising, almost all by volunteers, in July 2006, Cincinnati Police Chief Thomas H. Streicher, Jr., Hamilton County Sheriff Simon Leis, and Kenton County Sheriff Chuck Korzenborn cut the ribbon formally opening the Greater Cincinnati Police Museum.
And, the area had another first. The all-volunteer staff works diligently and almost daily to obtain, identify, preserve, and interpret more than 10,000 law enforcement artifacts and archives and to research the history of more than 160 local, township, county, state, and federal law enforcement agencies serving some 600 documented communities in Boone, Butler, Campbell, Clermont, Dearborn, Hamilton, Kenton, and Warren Counties of Indiana, Kentucky, and Ohio. We are the only regional law enforcement museum in the world and one of the very few police museums in the country that operates without accepting municipal or state funds.
The Museum has hosted in-service training for the Cincinnati Police Department and conducted events, workshops, and meetings of other historical societies and groups. Its volunteers conduct presentations to school groups, scouting groups, community groups, retirement homes, etc., either at the Museum or on location. We attend National Night Out each year and police station open houses as they occur.
The Museum also researches and documents the deaths of some 205 local, state, and federal officers who have given their lives in their service to Greater Cincinnati communities. A memorial wall appears within the museum and we believe it is also the only regional, interstate memorial to fallen officers in the world. And the Museum documents much of this history and the most in-depth narratives of any on-line Line of Duty Death memorial within these page; the such on-line memorial in the world.
The Historical Society celebrated its 20th anniversary in 2019, and in those few years we have fulfilled the vision of becoming the area's principal, if not only, regional repository for related artifacts, records, and research resources of law enforcement.
Our mission is evolving since we have accepted our roll in community relations. Our Law Enforcement Situational Simulator is our first step toward that endeavor.
The all-volunteer staff continues to work to conserve and enhance the historic environment of law enforcement, broaden public access, and increase understanding of policing now and in the past. The Museum is open on Tuesdays, Thursdays, and Saturdays from 10 a.m. to 4 p.m.